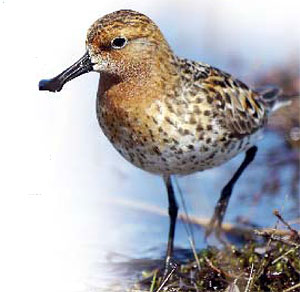 The critically endangered spoon-billed sandpiper has been given desperately needed financial help by German optics company, Leica Camera AG.
The Wildfowl & Wetlands Trust and their partners are attempting to stabilise the spoon-billed sandpiper population, which numbers fewer than 100 pairs in the wild, but working on the birds' remote Russian breeding grounds and undertaking conservation breeding is expensive.
As well as financial help, Leica are providing optical equipment to help field workers locate the breeding spoon-billed sandpipers and record their behaviour.
WWT Director of Conservation Dr Debbie Pain said:
"WWT is delighted that Leica has chosen to support the spoon-billed sandpiper. We're desperately trying to secure a future for this charismatic and unique bird, and tackle the problems it faces from trapping and the loss of wetlands."
Leica will showcase the spoon-billed sandpiper and the efforts to save it at their stand at the Birdfair in Rutland between 16 and 18 August.
Mr. Stephan Albrecht, Division Manager Sport Optics of the Leica Camera AG
"Leica binoculars and telescopes offer incomparable viewing experiences of nature. Time and time again we experience how fragile and endangered nature is.  That is why the Leica Camera AG chooses to take part in selected conservation projects – WWT's mission to save the spoon-billed sandpiper from extinction is one such project. In addition to the protection of this incredible bird the people living in its wintering grounds are being supported. People acting together for nature on a long-term and sustainable basis is important for us, because passion you can only share together."
To support conservation of the spoon-billed sandpiper visit www.wwt.org.uk/sbs